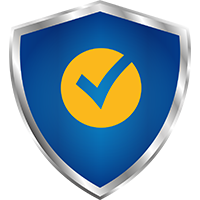 Detect security issues on your website and web application
Put yourself in a hacker's shoes! Without technical expertise, run automated security audits to detect vulnerabilities on your website or web application. With detailed reports, you'll know exactly what security issues hackers can exploit, their criticality levels and how to fix them. You can even replay the attacks to understand the risks involved. HTTPCS Security puts Machine Learning at the service of your cyber security to protect your site against hacking and data leaks.
100% Mapping
HTTPCS vulnerability scanner analyse and sort every URLs found on a website (or a web application) and theirs links to explore in priority the most relevant pages based on data partition algorithm, links analytics and language processing applied to URLs.

HTTPCS headless technology allows the robot to make full user interactions on page elements. (hover and click mouse, scrolling and filling up fields & forms).

The actions are memorized to set up scenarios allowing the discovery of menus, pop-up and multi-step forms.

HTTPCS allows to audit and secure 100% of the website perimeter by having an exhaustive indexing of access points and their metadata. And this even when they are requested after user actions, on fully dynamic pages built in Javascript (Angular, React, Vue.Js, etc...) or behind complex forms.

Learn more about 100% mapping and HTTPCS headless technology
Easy to set up and to use, the HTTCS Security interface allows you to schedule daily audits to protect your website 365 days a year.

With just a few clicks, configure the desired audit (using default or advanced mode, according to your needs) and receive daily reports for optimal protection throughout the year.

« Zero false positive » guaranteed
From the HTTPCS console, get access to all security issues detected by our vulnerability scanner. HTTPCS guarantees « zero false positive » : any detected vulnerability corresponds to a real threat that could be exploited by hackers.

As proof, HTTPCS Security identifies and simulates the security flaw without affecting your website or web application and gives you the opportunity to replay the attack.

No more wasting time going through long reports, trying to figure out which flaws are real or not: our technology does it for you and indicates for each threat its CVSS 3.0 severity score as well as possible counter-measures for you to fix this vulnerability

Understanding what "zero false positive" means and the benefits of our solution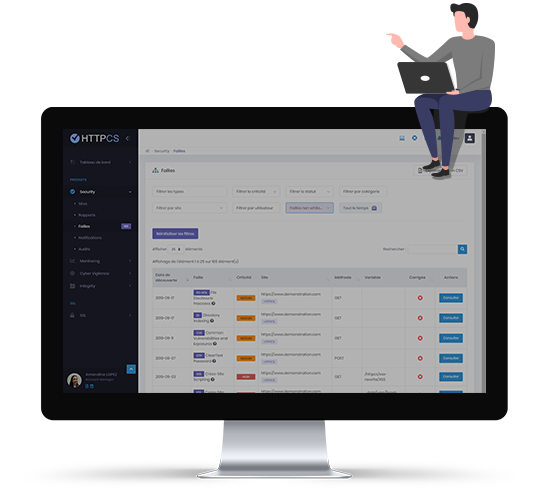 Web Vulnerability scanner with Machine Learning
At each scan, the robot crawls through your site or web app testing a variety of attack scenarios and learning from each scan before defining new attack strategies in order to identify and confirm new vulnerabilities.

By running HTTPCS Security every day, new vulnerabilities might therefore be detected from new strategies, from changes to your information system and from newly identified cyber threats. Far more thorough than a « one shot » audit, our robot replicates the behaviour of hackers looking for any vulnerability in your system.

More about machine learning and the HTTPCS technology 
HTTPCS Certification Seal
By displaying the HTTPCS Certification Seal, you can show your clients that your site your website is fully secured by our technology. This clickable certification, visible several million times a day, increases users' confidence and promotes conversion rates. It can be added to footers, legal notices or authentication pages and is stamped with the date of the most recent flawless HTTPCS Security scan.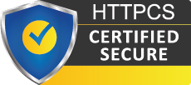 2020-01-29
Reassure your clients with our Certification Seal 
Black box scan: simulates a hacker with no prior knowledge of your system (no authentication). Grey Box scan: for a much deeper scan, give the robot login credentials to identify a full range of vulnerabilities.
WEB/APPLICATION AND SYSTEM PERIMETER
Scan of web servers, websites or web applications through headless technology: protection of extranets, intranets, SaaS applications, e-commerce websites and institutional sites for an optimal protection of your client/server addresses.
The HTTPCS robot detects an extensive range of vulnerabilities, not limited to the Top 10 OWASP and CVE. The robot knowledge base is supplemented every day by our cyber expert team in order to take into account new cyber threats in real time.
EXTERNAL NETWORK CRAWL
List of open ports, exposed services Fingerprint (FPT, SSH, Telnet, SMTP, SSL...), CVE via exploits of services (Ex port 445 SMB Wanna Crypt), SSL certificates (Chain & Validity), Reverse DNS.
NO INSTALLATION REQUIRED
There is no need to download and deploy any software to your servers. Our solution is SAAS based so you will be able to access it from a web platform by simply logging in to your secure console at httpcs.com.
Each HTTPCS subscription gives you access to a dedicated Account Manager who will be there for you, right from your first steps with HTTPCS Security and at any time you need some information or advice.
Frequently Asked Questions
Why secure a website or web application?
Cyber attacks get more frequent and increasingly more powerful, stealthy and sophisticated, randomly affecting sites, SaaS software and web applications. Companies and organizations of all sizes are therefore exposed to these cyber risks which threaten competitiveness, brand image and compliance.
How to protect a website or web application?
The current technological context, especially the constant interactions and evolutions in the Cloud, make the monitoring of websites and web applications humanly impossible. This is why HTTPCS offers the first automated cyber security tool capable of responding daily to cyber risks (web security, system security and application security, from the development chain to production).
Who is the HTTPCS Cyber Security solution for?
HTTPCS can benefit all types and sizes of businesses and organizations wishing to protect their websites and web applications from intrusions and web attacks. SMB, Web Agencies: HTTPCS is available in cloud hosted mode (SaaS) through monthly subscriptions without commitment adapted to your needs and constraints. Special offers are also available (in SAAS or Appliance mode).
How to fix a vulnerability detected by an HTTPCS audit?
Countermeasures, adequate corrections and recommendations are detailed for each vulnerability listed in each report. HTTPCS dashboard users, with limited cyber security knowledge, can simply implement these corrections which will automatically be detected by the robot and marked as such.
Can I audit a website (URL, IP address) which doesn't belong to me?
The use of HTTPCS is subject to prior verification of site ownership and legitimacy of the user to audit the application of his/her choice. This procedure can be automatic or manual: over the phone, by transferring a test file or by written signed attestation (for consultants, web agencies or Managed Service Providers for example).
Can I audit a production or high traffic website?
HTTPCS Security has been designed to detect security flaws of high traffic and production websites All the attack simulations, even during gray box pentests (with authentication), is carried out without any interference with their integrity or availability. Users can access the web application or the website during the audit.
What does the HTTPCS report contain? What are the vulnerability types detected?
HTTPCS detects all types of vulnerabilities or security flaws likely to hinder the security. availability, integrity or the compliance of your website or web application. Not restricted to malicious file propagation, defacing, data extraction, history or cookie theft , all the cyber-risks are proactively countered on a daily basis. Vulnerability detection is not limited to the top 10 OWASP or CVE. Every day, our cyber security experts improve the robot with new hacking techniques to remain one step ahead.
How does the 14-day free trial of HTTPCS work?
The free 14 days trial version is available with no obligation nor credit card via the "FREE ACCESS" button at the top of your page or below. This version allows to discover the ergonomics of the console, the programming of daily audits, the setting of monitoring alerts and to receive a report indicating the number of detected flaws. The certification seal will not be available on the Free Trial version.