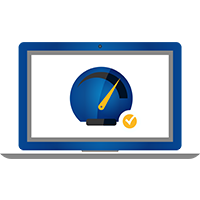 Monitor the true availability of your website or web application
Be alerted in real time of anomalies regarding the availability of your website or web application. With HTTPCS Monitoring, opt for continuous monitoring and be notified whenever your site is unavailable (network problem, server failure ...). More accurate than standard ping solutions, our technology guarantees you a 99.999% continuity of monitoring service and doesn't require a long term commitment or any software installation.With HTTPCS Monitoring, keep your web availability in check at all time.
Web performance analysis
How can you make sure your website or web application is available everywhere in the world and at all time? Thanks to its innovative system for analyzing response times, HTTPCS Monitoring gives you a precise and non-intrusive visibility of the availability of an application or a website.

Access all statistics regarding latency and load times in order to assess the performance of your site or web app.

Monitoring frequency: every 60s
HTTPCS offers a high performance monitoring tool which tests the performance of your system every minute.

HTTPCS Monitoring analyzes the availability and the performance of your website in real time, allowing you to be alerted in case of unavailability or anomaly found on your website or web application.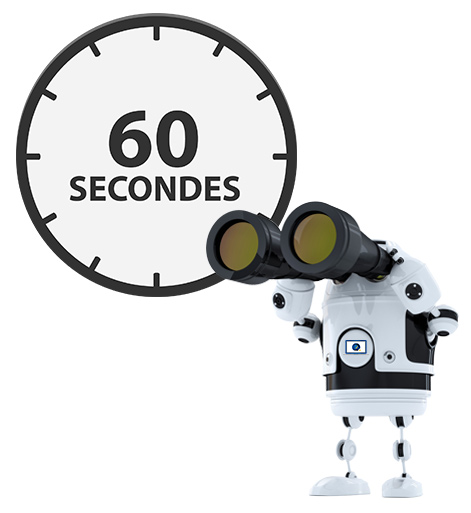 Real time alerts 24/7
24 hours a day, 7 days a week, be the first one to find out whether an anomaly has been detected on your web site or web application.

In just a few clicks, easily configure these alerts in order for them to reach the right recipient through the right channels (mail or SMS), at any time.

With HTTPCS Monitoring, reduce your remediation time in case of an incident!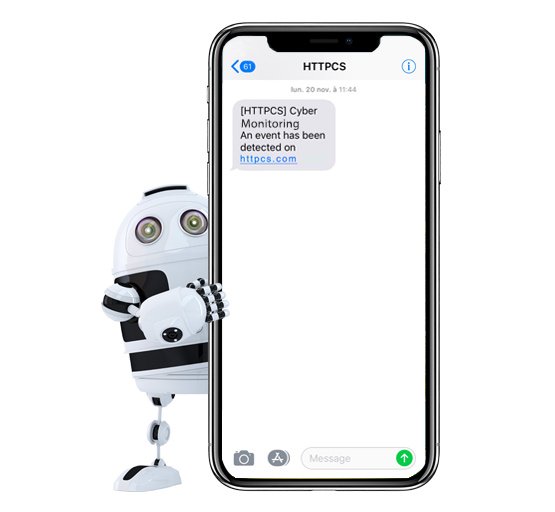 One step beyond :
The proof of availability

Standard ping solutions identify whether the server hosting your site or application is able to respond. However, it is possible that this server responds positively whilst your site is unavailable due to a problem affecting one of your services (MySQL, SSL ...)

By identifying a predefined proof within your site, HTTPCS Monitoring allows you to go further and to alert you in case of unavailability of your website or web application.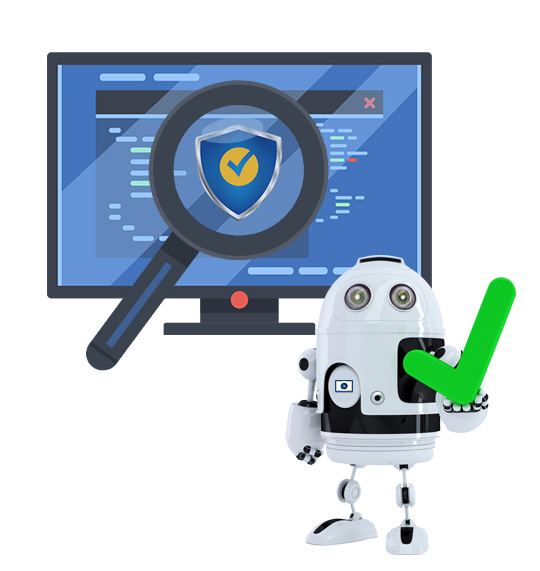 Machine Learning
Anticipate « down times »

HTTPCS' smart technology takes snapshots and fingerprints of your website or web app as they should normally be running. If HTTPCS Monitoring detects a change in your system's behaviour, you will be alerted so you can anticipate any « down time » before they occur.

Demo
$ 0
Free / 14 days
free trial
Unlimited alerts : 1 Email + 1 SMS

?

Advanced statistics
Visualization of lag time (ms)
Technical support included

?

1 domain name
14-day non binding free trial
No credit card required
Monitoring
$ 25 / month
$ 0 / Yearly Billed Monthly Billed
Choose this plan
Unlimited alerts : Email + unlimited SMS

?

Advanced statistics
Visualization of lag time (ms)
Technical support included

?

1 domain name / subscription
Non-binding offer
Automatic renewal
SERVER MONITORING
HTTPCS Monitoring allows you to constantly monitor your web server. Analyze response times, load times and receive an SMS alert or email whenever your server is down.
APPLICATION MONITORING
Your server responds but your site is no longer accessible, does not function as it should because the applications on your server are no longer working? Be alerted immediately so you can solve the problem and avoid the loss of visitors.
VERIFICATION BY +50 DATACENTERS
Each monitoring is verified by more than 50 data centers around the world to guarantee the reliability of the reported data. This preserves you from false alerts.
USER DASHBOARD
An intuitive and user friendly web interface enables you to easily analyze the performance of your web sites and applications: quickly identify the web services which require improvements in terms of speed and availability.
NO INSTALLATION REQUIRED
You won't have any software download and install on your servers. Simply access our SaaS based web interface by creating an HTTPCS Account and login your User Dashboard.
When you subscribe to HTTPCS Monitoring, a dedicated HTTPCS cyber expert will be by your side. From the definition of your project to its deployment, we aim to provide the highest quality of service.
Frequently Asked Questions about Monitoring
What does Monitoring mean ?
« Monitoring » means « Surveillance ». " Monitoring" a website means keeping a close and constant surveillance of that site. HTTPCS Monitoring enables you to make sure your site is available and accessible at all time.
Who should use HTTPCS Monitoring ?
HTTPCS Monitoring should be used by any organization that owns a website or a web application, regardless of its size. If you wish to be alerted in the event of your site becoming unavailable, HTTPCS Monitoring is for you!
Why should I monitor the availability of my website ?
A site which is unavailable or too slow, a request for quote or a transaction that don't work properly are some of the reasons your visitors might leave! This results in an immediate loss of image, trust, traffic, SEO and therefore revenue!
How could my site become unavailable?
A web application can become unavailable for several reasons: network or hardware problem, HTTP error, timeout, excessive loading time, application error... Be alerted so you can react even before one of your users has to warn you.
Say goodbye to drops in traffic and associated revenue losses,

monitor your availability

with HTTPCS Monitoring!
Free Trial